What can I use as support points ?
Once the ground has stabilized, the possible support points to use: adjustable PVC studs (roof terrace or very stable ground) or concrete studs. You can also use metal piles or IPNs. Reminder: the points of support must be stabilized.
How to make concrete studs ?
The construction of concrete studs must be adapted to each project depending on the nature of the ground, the vertical drop and the height of the terrace. We advise you to contact a TERRASSTEEL® certified company or a qualified building company.
How do I position my support points ?
The support points must be positioned every 2 meters in the direction of the OM65 carriers and the blades, and all the meters in the other direction, that of the OM35 shanks. (See Fig. 1)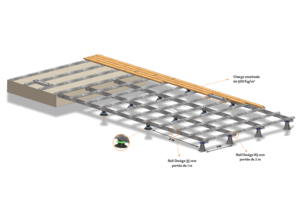 Can we ask about IPNs ?
This is possible but does not fit within our warranty conditions.
Is there a risk of instability of the terrace ?
There is no risk of instability because the structure forms a self-supporting mesh that is fixed to the supports, which is why the most important thing is to ensure that the points of support are stable.